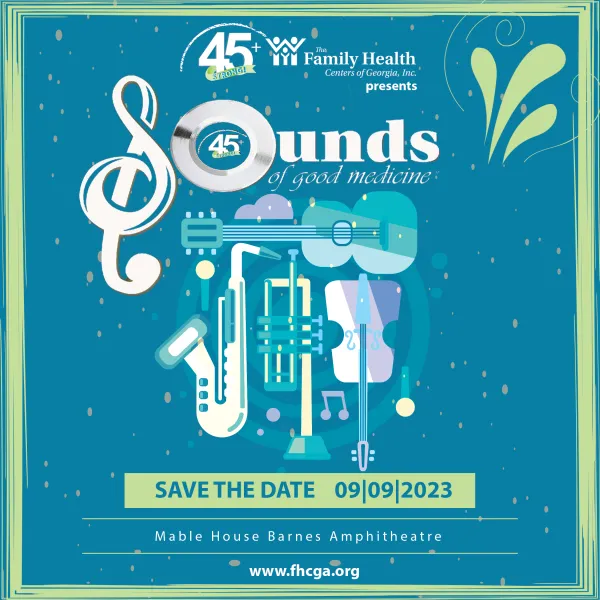 Sounds of Good Medicine 2022
Sounds of Good Medicine 2022 Program Book
FHCGA proudly celebrates providing healthcare services to medically underserved communities in metro Atlanta, and surrounding counties, since 1975. Sounds of Good Medicine Community Health Awareness & Fundraising Event, our signature fundraising event, is your opportunity to help us fulfil our mission.
In 2021, we treated 17,601 patients, generating 52,316 patient visits. Some pediatric patients gained 20 to 40 pounds since their last well-child visit. We saw an increase in children who missed much needed pediatric dentistry appointments. Seniors missed receiving care due to lack of transportation, even missing required office visits to obtain prescription refills. Many patients need behavioral health services to overcome feelings of grief, loneliness, depression, suicide, and/or anxiety.
We are worked hard to address these issues. We expanded our telehealth program to include medication refill and behavioral health services. We implemented 868FITJr. Wellness for Youth Program to address childhood obesity by providing nutrition education, weekly exercise classes and behavioral health counseling. We obtained a grant to provide free Uber Health rides for patient appointments, including prescription stops, and free COVID-19 testing, vaccinations, and education to help dispel myths and miscommunications.
Our work continues. Our success depends on gifts from individuals, small businesses, non-profits, government agencies, elected officials, and corporations. Your sponsorship, ticket purchases and/or donations (nothing is too great or too small) make a difference.