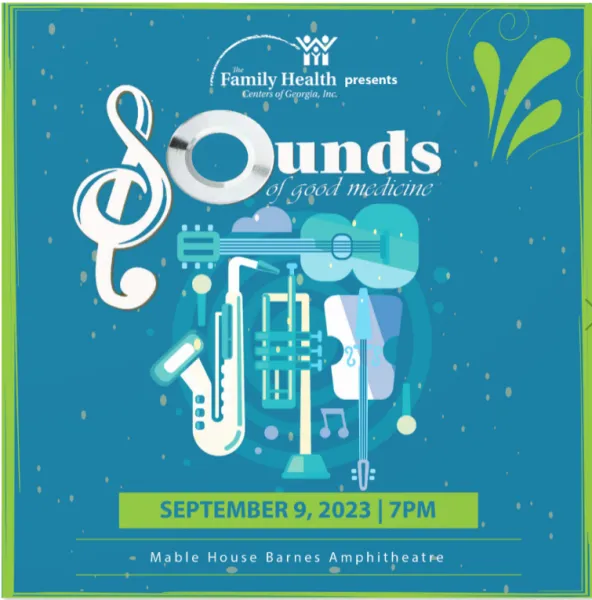 Sounds of Good Medicine 2023
You play a vital role in changing the health outcomes of medically underserved communities. In 2022, we treated 17,000 patients, 95% are Black/African American, living at 100% to 200%+ below federal poverty guidelines in Georgia's Cobb, Clayton, Douglas, and Fulton Counties.

In 2023, we are undertaking major projects to increase access to care. We acquired the Georgia Center for Women, www.gacfw.org, located in Atlanta's downtown and Midtown areas and Morrow, Georgia. We aim to provide quality healthcare to women and connect them and their families to primary healthcare services.
We received continued funding as the statewide administrator for the Office of Population Affairs' family planning program. Partners of our Georgia Family Planning Program, www.georgiafamilyplanning.org, offer affordable family planning and primary healthcare services under one roof at 183 sites, covering 157 of Georgia's 159 counties.
We acquired funding to provide HIV education and referrals to treatment in Clayton, Cobb, DeKalb, and Fulton counties. We also acquired two mobile medical units, for a total of three, which allow our team to take healthcare to underserved communities.
We developed a new school-based health center in partnership with Fulton County, bringing our total school-based health center locations to five. Our Clayton and Douglas counties school-based health centers provide services to all students in each district.
In 2023 we will increase behavioral health, weight management, and physical fitness services to at-risk youth and their families and increase our care coordination and referral services for our high risk (asthmatic, cardiovascular, diabetic, hypertension, and obese) patients.
We now offer free Uber Health rides to all patients for all appointments, including specialists. We continue to educate our patients and communities on the importance of getting the updated COVID-19 vaccination. We also continue to offer free vaccinations and access to COVID-19 treatment.